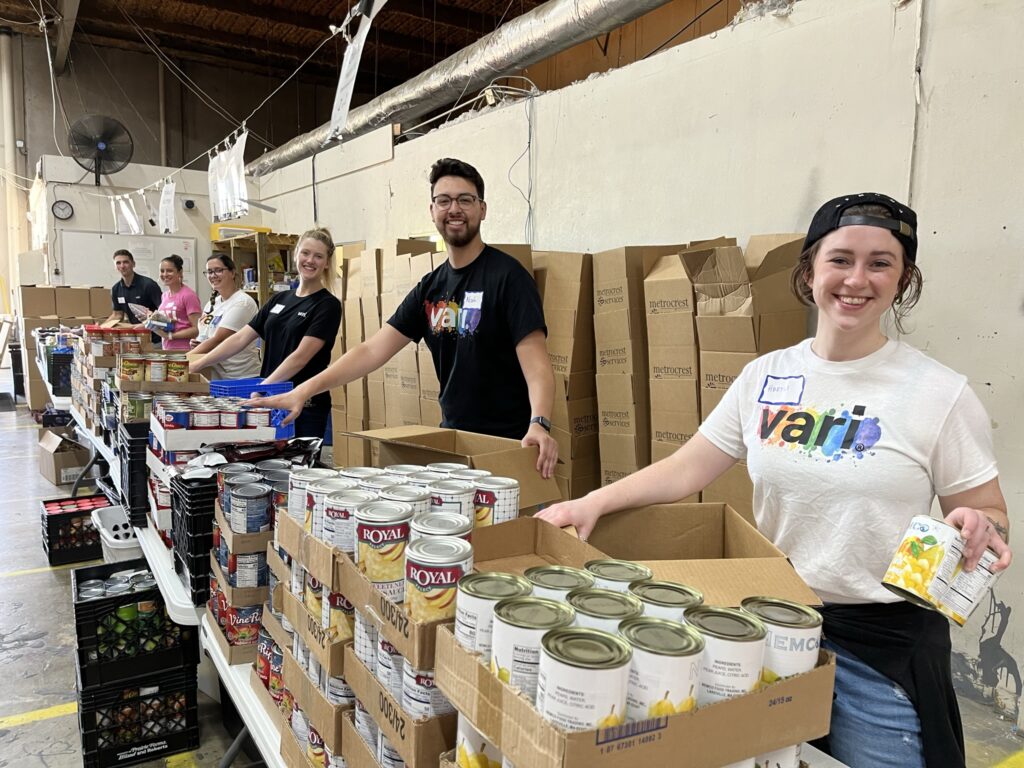 Vari Elevates Work of Metrocrest Services
Workspace innovation company shares innovation and dedication with non-profit.
To unlock the potential of an organization's space and people, Vari provides expertise to companies across many different industries. Through a unique and inspiring partnership, that expertise will also make a difference for individuals, families and seniors striving to achieve self-sufficiency, as Vari provides volunteer time, professional support and exceptional products to Metrocrest Services.
In 2016, Vari CEO Jason McCann came across a sign-up sheet for volunteers helping deliver meals with a non-profit organization called Metrocrest Services. A Vari employee had signed up to help, and that led McCann to find out more about Metrocrest Services.
"After seeing his photos from the event, I wanted to learn more about what Metrocrest was doing," McCann said. The Vari CEO decided to donate to Metrocrest Services and then took his support a step further by touring the non-profit and speaking with Tracy Eubanks, CEO of Metrocrest Services. "After personally volunteering with my team at Metrocrest and seeing the impact it was making in people's lives, I was immediately hooked and wanted to do more," McCann said.
McCann learned that Metrocrest Services was in the process of building a new facility to better serve the organization's growing clientele through a larger, dedicated space that would allow the combining of several different facilities. A lightbulb went off as McCann discovered an additional way that he and other Vari employees could support the mission of Metrocrest Services: Vari "leaned in," McCann said, and provided an in-kind donation of more than $500,000 to help Metrocrest Services create a flexible workspace to best serve clients and to be a fantastic place for employees to work.
Vari has worked with more than 1,000 organizations helping to create spaces that foster collaboration and engagement. Vari's workspace design team works closely with organizations to understand their needs and determine how their spaces can best be outfitted with workstations, soft seating, moveable walls and more that enhance collaboration. At Metrocrest Services, Vari products will outfit a welcome center, workstations, offices and multipurpose rooms, and they were carefully chosen to best meet the needs of the growing non-profit.
"Metrocrest Services benefits not only in terms of receiving this generous donation, but most importantly, from the expertise Vari has offered to us," Eubanks said. "As we continue to grow to meet the demand, we maintain a focus on this also being a place where talented people can do their best work, their life's work, and in doing so, positively impact those in our community who depend on us."
Vari and Metrocrest have collaborated to create an environment that will empower Metrocrest Services and its employees with flexible workspaces that encourage productivity and collaboration. "We can't wait for the new facility to open and see what Metrocrest has in store next for DFW!" McCann said.
In addition to its expansive work with companies across the country, Vari also has first-hand experience in designing, building and outfitting spaces that best meet the need of a growing organization. Vari recently moved into its own new headquarters, VariSpace Coppell – an accomplishment that also served to commemorates Vari's 10-year anniversary.
Vari has brought significant value to Metrocrest Services and, in turn, the non-profit has served in a unique role for Vari – as the foundation for a corporate giving program that will continue to help those in need as Vari employees dedicate themselves to bettering their communities.
"Our involvement with Metrocrest Services became the catalyst for Vari Community Giving and the Volunteer Time Off (VTO) investments that we make for our teams and the surrounding communities," McCann said. Like Metrocrest Services, Vari's dedication to giving back remains an important part of the Vari mission and core values. By partnering with nonprofits in key markets, Vari is able to provide in-kind donations and outfit workspaces for these organizations, allowing these nonprofits to use their resources where they matter most.
"Working alongside Vari – whether that's while they help us serve those in need, or while they are pouring expertise into our new home – has been rewarding on many levels," Eubanks said. "For Metrocrest to serve as some sort of inspiration for their philanthropic efforts is tremendously rewarding."